The Federal Government is currently shutdown. NOAA.gov and most associated websites are unavailable. This site will remain available, however, it will not be updated and we will not be able to respond to inquiries until further notice. For more information, see Shutdown Due to Lapse of Congressional Appropriations.
Skip to main content
NOAA Emerging Technologies Workshop
About NOAA's Emerging Technologies Workshop
The National Atmospheric and Oceanic Administration (NOAA) Emerging Technologies Workshop (ETW), is a two-day, public event showcasing the latest innovations designed to collect, analyze, and/or synthesize environmental data. First held in 2016, the event aims to identify new technology with the potential to advance NOAA's capabilities to monitor, assess, and predict the environment. The workshop features presentations and technical posters highlighting projects funded by NOAA and external stakeholders, representing academia, private industry, and other federal government agencies. The NOAA ETW is held every 18-24 months.
---

---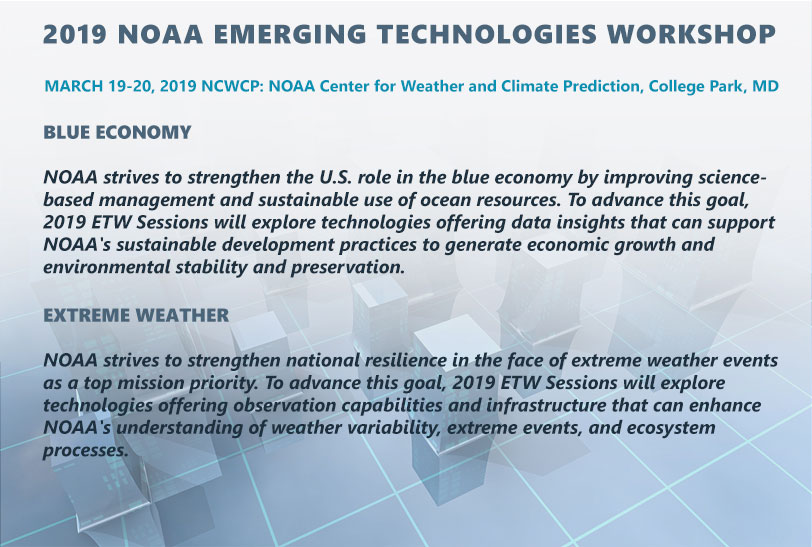 2019 Speaker and Poster Submissions
NOAA is seeking applications for workshop speakers and technical posters which highlight technologies in one or more of the 2019 topic areas. Technologies must be at Technical Readiness Level 6 (TRL-6) or above. Submissions are encouraged from NOAA affiliated/funded groups and external stakeholders, representing academia, private businesses, and other government agencies.
For those interested in submitting an abstract for consideration, there are two submission tracks, based on how your technology is currently funded. External submissions - for emerging technologies that are not currently funded by NOAA - must be completed as a response to the 2019 NOAA ETW Request for Information (RFI), and are due by December 13, 2018. Internal submissions - for emerging technologies that are already being funded by NOAA - must be submitted as a response to the NOAA ETW Call for Abstracts, and are due by December 21, 2018.
View 2019 ETW NOAA RFI




For Technologies not currently funded by NOAA

Closed




Due 12/13/2018
Notice about government shutdown
In the event of a shutdown of the federal government that lasts beyond January 2, 2019, the deadline for submitting abstracts for NOAA-funded emerging technologies will be extended beyond January 9, 2019 (exact deadline is TBD).
2019 Registration Information
Online registration is required for all attendees and will open in early January 2019 (via a direct link that will appear on this page). Workshop space is limited, and registration for the public is on a first-come, first-serve basis. If you would like to receive an alert as soon as registration opens, you may sign up (below) for an automatic email notification.
---