Skip to main content
NOAA Emerging Technologies Workshop
About NOAA's Emerging Technologies Workshop
The National Oceanic and Atmospheric Administration (NOAA) Emerging Technologies Workshop (ETW), is a two-day, public event showcasing the latest innovations designed to collect, analyze, and/or synthesize environmental data. First held in 2016, the event aims to identify new technology with the potential to advance NOAA's capabilities to monitor, assess, and predict the environment. The workshop features presentations and technical posters highlighting projects funded by NOAA and external stakeholders, representing academia, private industry, and other federal government agencies.
---

---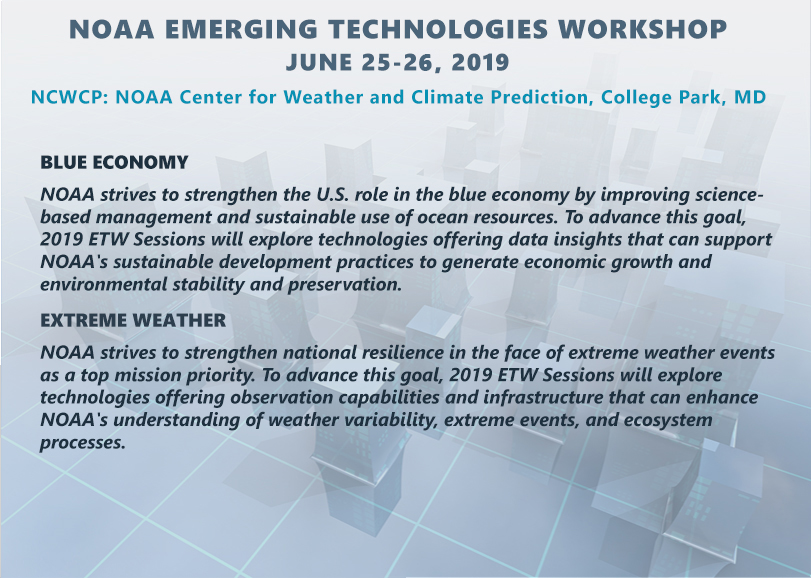 2019 Registration Information
Registration Update - May 15, 2019: As of today, May 15, 2019, registration for the 2019 Emerging Technologies Workshop is now closed.
Pre-shutdown Registrants: If you registered before the ETW date was postponed from March to June, and you still wish to attend the ETW, you do not need to register again. Your original registration will be honored.
Registrant Cancellations: If you are no longer able to attend (due to the ETW being rescheduled), please email etw.logistics@noaa.gov to request that your registration be cancelled, or login to the registration system and cancel your registration yourself. We apologize for the inconvenience.
---